Hot Desk
A Hot desk facility is ideal for self-employed freelancers, small businesses or those working in different regions as it is an office based system where multiple workers can use a single physical work station during different time periods.
This suits office professionals who work different, flexible shifts, those who only require office space for short time periods or those who only work occasionally.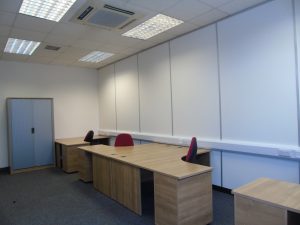 As a Pay as You Go service with no long-term contract or other office overheads our hot desk facility providing you with a desk and chair is a truly cost effective, convenient and flexible option with free fast Wi-Fi. A private, super-fast and secure broadband is also available on request.
* Terms & Conditions Apply
Co-working
Co-working involves sharing an office environment with those not employed by the same business and often involves working independently but alongside people who share the same values.
Based in Darlaston, it's an ideal option for work at home professionals, independent contractors, exponential start-up businesses or people who travel frequently. With co-working, individuals can get away from the distractions of working at home and network with like-minded people, whilst working with all the right office services and facilities around them. These services help them work in a more professional and productive way.
If co-working is the right option for you, we offer a range of flexible and convenient packages of Bronze, Silver and Gold, which include on site access (Mon-Fri), manned reception, free superfast unlimited Wi-Fi, unlimited tea and coffee, reception meet & greet, access to business support services, access to meeting rooms, prestigious mailing address, local/ national geographical telephone number. PA service – calls screened & transferred, messages forwarded via email, fax to email service.
* Terms & Conditions Apply
Business Support
Take advantage of our  convenient business support services with our team on hand to do those last minute preparations.
Send us your documents for your meeting, training, event, conference or just day-to-day administrative support where we offer a reliable, professional service so it allows business owners to focus on other aspects of business planning.
Photocopying
Printing
Binding
Laminating
Scan to email
* Terms & Conditions Apply